A Parable for Our Times
Dragons at Work is a fictionalized leadership case study. It's the story of Dan Shaeffer, a tightly wound IT executive whose command-and-control style is failing to deliver results. How he is coached to deal with a political enemy, reestablish trust with his team, and become a better leader, father, and husband propels the story forward.
After rejecting other coaches, Dan chooses Michele Wu, whose unorthodox methods guide him through realms he never imagined he would travel.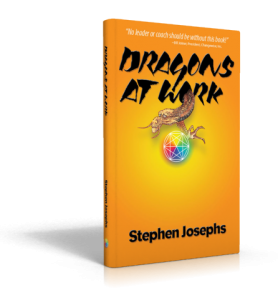 Now, for the first time, Dragons at Work is available as a paperback or Kindle edition on Amazon. In both editions, you'll find guest commentaries and developmental resources at the end of chapters. When the story takes a turn that is personally relevant, you can link to instructional material, interviews, and even songs. The Kindle edition makes this particularly convenient. You're only one tap away from deepening your enjoyment of Dragons at Work.

"More than a master guidebook for transforming fire-breathing monsters into empowering collaborators, Stephen Josephs' new book, Dragons At Work, is a way of life. I carry this bible for leaders with me on my smartphone at all times (so that some day I won't need to.)."
~ Barnet Bain, Producer, What Dreams may Come and The Celestine Prophecy.
"Dragons at Work grabbed me right from the start. It immediately dove into the core, real-world problems that I encounter on a daily basis at work. But it did so in a way that provides clear, action oriented steps toward skillfully managing these challenges. If you want to stop struggling and start thriving, Dragons at Work is for you."
~ Greg Schottland
Are your brightest people holding your company back?
You've met guys like Dan Schaeffer. He's smart, driven, abrasive, and his knowledge is considered indispensable to his company. That's why, in spite of the turmoil he creates, he hasn't been fired. He's an example of how your brightest people can hold your company back.
How do you transform your fire-breathing executives ?