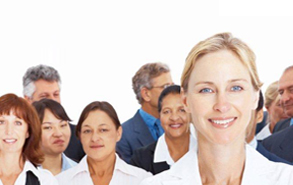 It's a familiar story. You came to the HR profession because you believed that the human element of an enterprise is essential and integral to its success. It's not only strategy, efficient processes, and organizational structures that poise a business to succeed; it's the culture, the quality of life inside your company, that calls forth people's innovation and best work.
Chances are you serve as a sounding board for key executives. You listen, integrate HR into their vision, and provide wise counsel. You may wish more executives would take advantage of that resource.
But what about you?
When does someone listen to you with the degree of attention and care you give others? When do you get a chance to deeply reflect on what you want to accomplish, why it's important, and what quality of work life you want to experience on a daily basis? Who serves as a catalyst for your development?
Have you put your development on a back burner while you attend to the unremitting demands of your role?
Why I invest in HR
People talk about the importance of a company's culture, but it's HR executives who actively help design and shape it. I believe in what you do. I want to help you add value to your company and succeed personally and professionally.
I help my HR Executive clients create positive and profitable ripple effects in their companies, clarify their vision, and increase their personal and professional effectiveness.
When my clients evaluate coaching, they look for three things: Excellence, Chemistry, and ROI. Here's a risk free way you can experience all three and determine the potential of our working together.
A Working Session
You can request a 75 minute working session with me on a topic of your choice: something specific and immediate that you want to accomplish. The purpose of the session is not only to move you toward your goal(s), it's to see if our working together will be a useful resource for you.
You could focus your session on preparing for an important meeting, negotiation, or presentation. You might want to get clarity about a decision, a strategic question, a political issue, or a career direction. You could dedicate the session to improving your personal brand and HR's brand within your company. You may want to increase your influence and impact. Or you might want to boost your vitality, productivity, and satisfaction on the job.
The Application Process
Please keep in mind that your request doesn't guarantee an appointment for a 75-minute session.  I'm selective about the people I work with. I coach leaders who want to excel in new ways, strengthen their vitality, and enhance their enjoyment of life. Freud said the secret of life is "work and love." If you want only the first half of that formula, I'm not the right coach for you.
If you're interested in a detailed look at what our coaching might be like, read "Dragons at Work."  D@W is both a short novel and a fictionalized case study of coaching in action. If it appeals to you, I encourage you to apply for a session.
To get the application process started, first you will fill out a confidential questionnaire. I'll review it, and if I think we're a good fit for one another, my assistant will contact you to schedule a 75 minute session. If I don't think I'm the right coach for you, my assistant will contact you to ask if you want to have a half-hour conversation dedicated to connecting you with the resources you need. There is no charge for this.
If after a full working session, you decide that one session is enough, there is also no charge. If we choose to continue our work together, that session will be included in whatever package you choose.
Also, some HR Executives use the session to determine if I'm the right coach for an executive they support. That's an excellent use of our time, as well. If that's how you want to use our time, let me know that in your application.